Combat the Cold: #VODKAORDIE TODDY
No thanks to that damn groundhog, it seems like winter has us in its icy clutches with no intention of letting go.  To make matters worse, there's been a serious cold-snap at both the bar and the office.  And by cold I mean everyone's getting sick.  It may seem like we're about to enter another Ice Age, but I can promise you that it will be a much colder day than this, in hell, when a little wintry weather stops me from having a drink.
Now, when I'm I feeling I need a cold weather pick me up, I reach for a Hot Toddy.  However, I'd like to think if there's one thing I'm not, it's basic.  With that in mind, instead of sipping on something traditional, let's get something that will actually satisfy you.  For that I turn to Diddy for inspiration.  Now hear me out, since he beat out Aziz Ansari in a "Smooth Off", he's officially the Slickest Rick in town.  And don't push me on this, cuz I'm close to the edge.  I'm trying not to lose my head.  Can't no cold hold me down.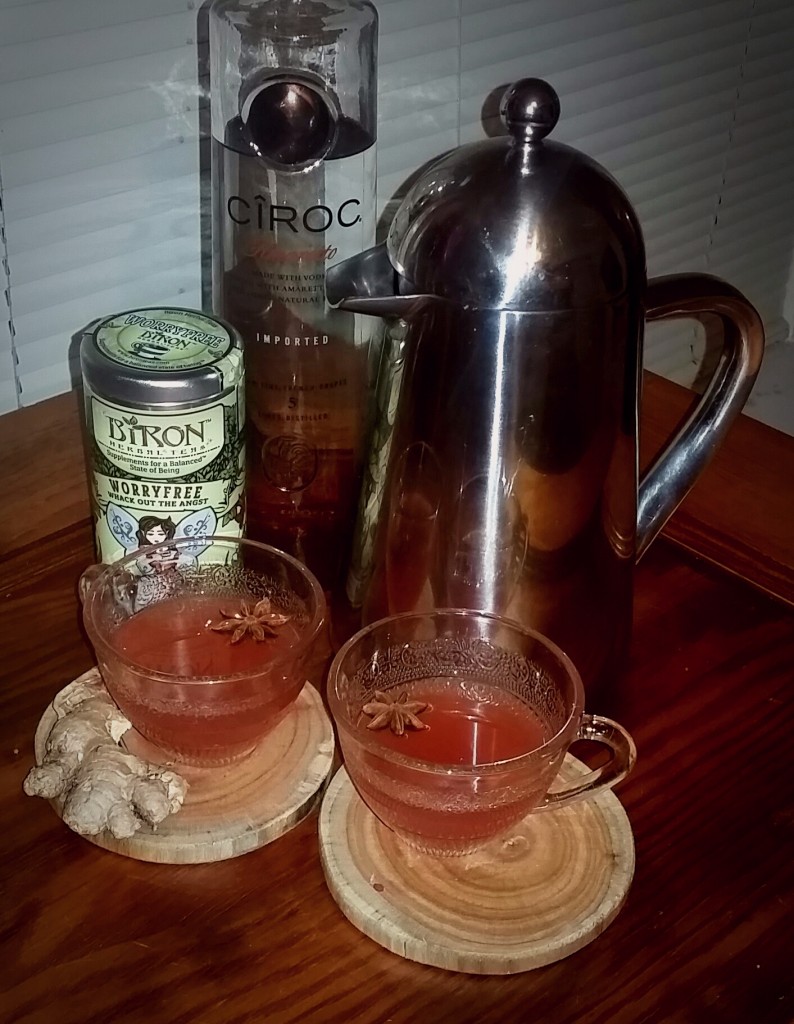 #VODKAORDIE TODDY
serves 2
1 cup water
1 bag of Byron Worry Free Tea
.25 cup Blood Orange Juice
1 tsp Lemon Juice
1 tbsp Honey
1 Star Anise Pod
1 tsp Fresh Chopped Ginger
4 oz Ciroc Amaretto
Bring your water to a boil, then reduce to simmer.
Add your tea bag and allow to steep for 4 minutes.
While leaving the tea bag in the pot, go ahead and add your blood orange juice, lemon juice, ginger, star anise, and honey. Whisk to dissolve the honey.  Allow to sit for an additional 2 minutes at a low simmer.
Remove the pot from the heat, and add your Ciroc Amaretto.  Whisk to combine, then strain into your glasses.
Enjoy
Now if you'll excuse me, I'm going to tell this weather that, with every step I take and every move I make, I won't be missing you.
Yours Truly,
-Ryan
---
---